---
Primo Oval XL 400
Ceramic Charcoal Cooker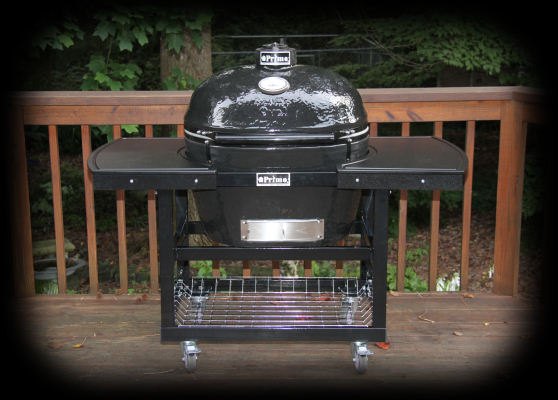 As usual, we'll start this off with a disclaimer: Everything you see in this review, the cooker, the cart, the accessories was given to us by Primo Grills for the purpose of doing this review. To the conspiracy theorists we can only say that we already have 5 ceramic cookers; we don't need or really want any more, so we don't think we can be bought with the offer of a free cooker. But the chance to evaluate another brand of cooker? And this time our first oval cooker? That we jumped at. Again. And again. -- TNW
Introduction
Lordy! It seems like forever since we first noticed what appeared to be a cooker that looked just like a large Big Green Egg on a web site of a company named Primo. That was 1996 and Primo had just introduced their Primo Kamado cooker, a round kamado-style cooker. In 2002, things got really crazy as Primo brought out a cooker that wasn't round. It was oval, the first oval shaped kamado cooker, what is now called the XL 400. In 2004 the Oval JR 200 was introduced, and just recently the Oval LG 300 was introduced. What we have here for our review is their largest cooker, the Oval XL 400, the Primo metal cart base with two-piece island top, and a host of accessories.
What Shape Is The Primo Oval?
Warning! If you aren't interested in bit of pedantry, click here to skip to the next section. However, we wondered (as we often do) exactly what is the name of the shape that defines the Primo Oval cookers? Of course, we hear you shout, "oval!" Well, Wikipedia describes an oval thus:
"In common English, the term is used in a broader sense: any shape which reminds one of an egg."
(Wikipedia's words. Not ours.) It appears "oval" is a very general term. After all there are Cassini ovals, elliptic curves, superellipses and Cartesian ovals. Trying to nail it down, Wikipedia explains that in geometry, ovals have the following common traits:
They are differentiable (smooth-looking), simple (not self-intersecting), convex, closed, plane curves.
Their shape does not depart much from that of an ellipse.
There is at least one axis of symmetry.
So, googling about, we find that the Primo Oval shape is a shape that is a constant distance from a line segment, i.e., two semi-circles joined by two parallel straight lines:
So what's it called? We found:
It's the R-neighbourhood of that line.
It's a special (degenerate) case of a rounded rectangle.
It's a special case of an oblong.
If the main line is horizontal and L long, the curve is the solution to the equation: max(-X-L,0,X-L)2 + Y2 = R2
It's a racetrack.
It's a stadium.
But our favorite, and what appeared to be a consensus among several mathematical sources, it's a "discorectangle". See? It wasn't easy. You may thank us now.....




Features and Points of Interest
The Primo Oval XL 400 is obviously not like most kamado-style cookers due to its unique oval shape. This oval shape is protected by design patent D469,651 which you can view in this PDF copy of the patent. Here are some features and specifications from the Primo website and product brochure:
Grill weight: 200 pounds
Cooking area: 400 square inches
Optional rack system:280 square inches
Cooking grid: 18&frac12" x 25"
Temperature range 150°F − 850°F+ (66°C − 454°C)
Patented oval shape
Premium grade ceramics
Reversible cooking grates
Optional rack system and accessories
Made in the U.S.A.
Limited lifetime warranty backed by a 20-year guarantee
Here are some more items of interest from our observations:
Color: Black
Cooker dimensions 28" wide by 27½" high by 21½" deep (71 cm by 70 cm by 55 cm)
Top vent has gasket between vent and cooker for tighter seal
Spring-assist hinge mechanism
Large face 0-750°F (-18-400°C) dome thermometer
Ash tool optional
Grate/rack lifter optional
Extension racks optional
Heat deflectors/racks optional
Pizza stone optional
Metal firebox divider optional
Several other optional accessories available
Top Vent Powder Coated Cast Iron
Cooking Grate porcelain coated steel
Fire Box High Fire Heat-Resistant Ceramics
Fire Grate Powder Coated Cast Iron
Bands/Hinge Powder Coated Steel
Draft Door 304 Grade Stainless Steel
Here are some items of interest regarding the metal cart base with two-piece island top:
Powder coated metal framework
Galvanized steel basket, 22¼" x 32¼"
Top surface constructed of "the highest marine grade materials and UV Inhibitors for the ultimate in weather resistance."
FDA approved food safe and stain, mold and mildew resistant.
Top surface 30¾" high.
56" by 26" top surface with 27½" oval cut out of the middle (when assembled for the Oval XL 400).
Four sturdy easy rolling casters, two locking.
Assembly
You may receive your cooker already assembled by your dealer, or you may receive it in a box, unassembled. Needless to say, we had our cooker shipped to us by Primo so that we could do the assembly ourselves and document it. First, here is a time lapse video of assembling the base cart and two-piece island top:
It took us about 40 minutes to assemble the cart. It would have gone a bit faster but we discovered that we had installed the vertical posts incorrectly and had to go back and redo that part.
Next we enlisted the help of our reliable partner in kamado krime, Tony, to assist is unboxing and assembling the cooker itself, as well as muscling the cooker into the cart:
We'll point out a few things that you may or may not have spotted in the video. First of all, we erred in removing the box from the pallet. The box came stapled to a pallet and there was a reason for it. You need the pallet to support the bottom of the box and keep the cooker from falling out the bottom. We figured this out shortly after pulling the box away from the pallet. Fortunately, we were able to keep it all together until we had it placed on the deck.
The second thing which is quite minor is that we didn't tighten the handle nuts in the video. We did that after we were done "filming." But, of course the biggest observation one should make is that the only real "assembly" necessary for the cooker was the handle. Everything is already done for you other than that!
One final thing relates to assembling the cart, specifically getting the bolts for the shelves into place. A friend told us that he has found that it is quite easy to get the bolts cross threaded and if attempting to use force to get them in place, you wind up with a bolt halfway in. A worse situation is that the bolt might get jammed such that it cannot be removed or tightened down. When properly aligned, these bolts screw in with minimal force until the final quarter turn. We didn't encounter any such difficulties when assembling our cart, but do pay attention and get the bolts started correctly so as not to encounter any problems.
Here are some photos of how the cooker was delivered and its packaging.
Next Page....
---
nakedwhiz.com Home Search Our Site Email The Whiz Listen To Whizcast Whizlog Buy Whiz Gear Privacy Policy
All Contents ©2001, 2023 The Naked Whiz
International Association of Fire Safety Science member #1604


You can support this website by shopping at The Naked Whiz Website Store and Amazon.com
You can make donations to The Naked Whiz
Website using Bitcoin! Scan the QR code at
left or copy and paste our wallet ID:

1Bt4vjU9PUQNVvEZZq6ik6jWYr6nr4rJRp